So, you don't want what everyone has, and have been looking around at different table tops and bases. You want a table that is one of a kind and speaks to you, and you've decided to create your own table. This is can be complicated: to come up with a table from scratch; but if you can get your hands on customizable table legs and bases, wouldn't that make your work a lot easier?
Here's how you can get the right metal table legs for the table of your choice:
The Style of Your Table
Keep in mind the kind of table style you want to go for, and then select your table legs. Do you want a sturdy yet unique metal base that quickly becomes the center of attention in your room? Or, do you prefer a simple, refined metal base that makes your tabletop pop? Do you want a more vintage, rustic look? Decide on a look and then start looking!
Light or Heavy Legs?
For you to decide between lighter or heavier metal table legs, you have to consider the kind of weight your table will be subjected to.
If your table will have a lighter top, then you can opt for simple metal table legs that will work wonderfully for small tables, side tables, or coffee tables.
On the other hand, if you want to support wood, marble, glass, or a concrete tabletop then you'd have to choose heavier legs. They work best for dining tables, big desks, conference tables, benches, sturdy coffee tables.
Wishbone table legs and bench legs
Table Top Material
There are various tabletop materials you can choose from.
Wood table tops are more traditional and very popular. All leg designs by us are very supportive and suited for wooden table tops.
Concrete or stone tops can also be used. For stones, drilling holes is sometimes not possible so we provide leg styles that can adjust to your concrete or stone table.
Glass tops often need a single solid leg that is strong enough to support the entire weight of your tabletop.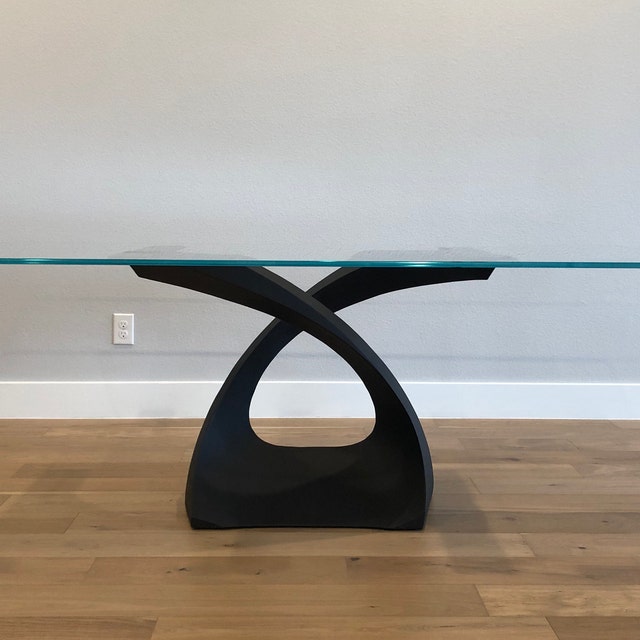 Glass top with Tuplipe metal base
Styling your home furniture can feel great and rewarding. We, at Flowyline, can help you out. We are metal table legs manufacturers and we provide handmade metal table legs including coffee table legs, iron table legs, steel table legs, dining table legs, console table legs, and more.
Get in touch with us for more information.