If you are working as a carpenter, there would be so many struggles you have to face in your workshop. You can not run your business without having a perfect carpenter table. While premade work tables can be costly and you may not even be able to find a workshop table that appeals to you, there is an alternative. You can build your own work table just by following the step below.
Why should you build a carpenter's table?
Heavyweight capacity - As well as having a high weight capacity, industrial workbenches, and work tables are extremely durable and of high quality. This means you'll get the most out of your initial investment as they can withstand frequent rigors use.
Ergonomic Design - It can help improve productivity and workshop efficiency by installing a good quality carpenter table.
Can Utilize Vertical Space -  Installing a carpenter work table in your workshop can also help you utilize the vertical space around it. Shelves or other workshop storage solutions can be installed around it, meaning optimum organization and efficiency.
Improve Profitability - Installing a carpenter's work table in your workshop can improve productivity and efficiency, this can lead to increased profits as more jobs are getting done but still to the same high standard as before.
Manage Your Workspace - This gives your employees a little bit more flexibility and freedom when it comes to working and storing tools and materials.
Safer Working Environment - As a carpenter, you have a legal responsibility to ensure that your working environment is safe for employees. Workbenches and worktables for workshops allow you to boost safety. Not only do workbenches come with clever storage solutions, but they can also be modified to what works for each individual warehouse. This helps ensure that all of the tools and equipment used aren't just lying around and can be stored safely and securely.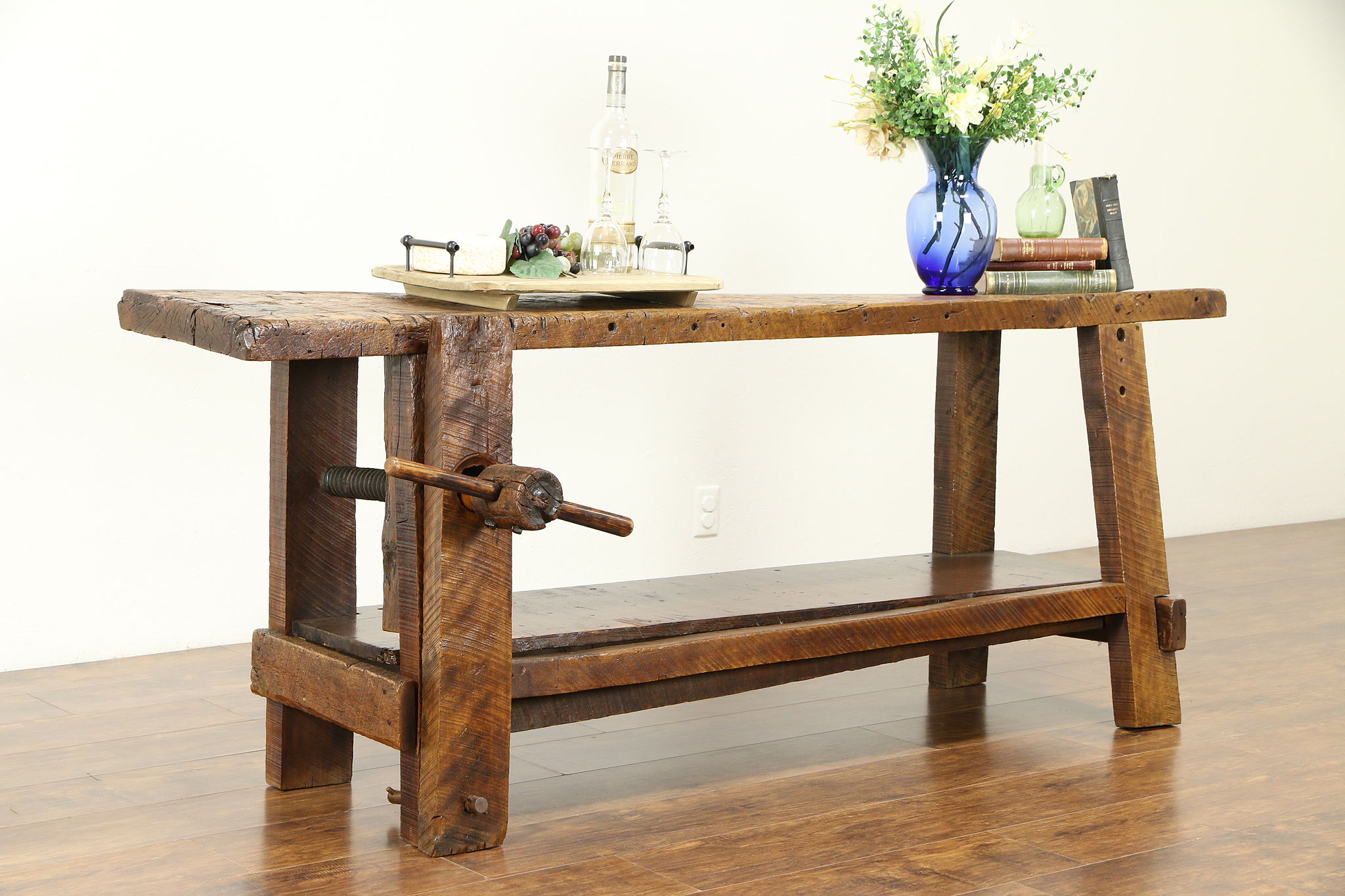 This carpenter's table is simple enough and cheap enough that you can make it in the morning, and yet it's big enough for serious woodworking and hobby projects. Add pegboard, a bench vise, and a few other accessories and you'll have a serious work center.
How to make a carpenter's work table?
Tools Required
Circular saw

Cordless drill

Miter saw

Safety glasses

Straightedge

Tape measure
Materials 
Legs - 4 lengths of 90 x 45 mm (3 9/16" x 1 3/4") cut to 85cm (33 7/16")

Long Stretchers - 4 lengths of 90 x 45 mm (3 9/16" x 1 3/4") cut to 120cm (47 1/4")

Short Stretchers - 4 lengths of 90 x 45 mm (3 9/16" x 1 3/4") cut to 51cm (20 1/16")

Base frame: 90 x 45mm (the metric version of 2 x 4 construction/framing pine)

Laminated bench top: 17 lengths of 90 x 35mm cut to 1.8m long (70 7/8")
Instructions 
1. Half laps
Simple half-lap frames were made by rebating with a circular saw and cleaning up the waste with a chisel. The long stretchers have a rebate of 90mm (3 9/16") wide at each end cut 22.5mm (7/8") deep. The legs pieces have a rebate of 90mm (3 9/16") wide at one end cut 22.5mm (7/8") deep. At the other end, the 90mm (3 9/16") rebate is cut 76mm (3") from the end.
The short stretchers have no rebate as they are simply screwed in place
2. Frame it out
Interlock the long stretchers and the leg pieces which can be glued and screwed (or dowelled) together and simply screw the short stretchers together to create the bench base assembly.
3. Laminate it 
This construction pine came with a rounded profile on all edges - ripped a few mm (1/16") off each edge using my table saw to make the boards square all around. Then laid them out so that any knots or imperfections were placed face down (this will create the cleanest looking worktop and helps when it comes to hand planning it flat later on). It helps if you number or mark the order of the pieces, as the top should be glued up in stages (and it's easy to lose track of which order and orientation the timber needs to be laid out).
4. Glue up
Using the plane to knock off any high spots and dried glue that squeezed out during the glue-up. Use baking paper or similar under the boards being glued to both catches any glue that squeezes out and prevents your boards from ending up glued to whatever work surface you are using.
Once you've got your laminated top glued into three solid sections then glue it all up. Use as many clamps as you have and apply more glue than you think you need.
5. Plane it flat
Getting a hand plane (a Jack or No. 4) will work but a longer-bodied version may be faster and easier. Then try to plane the top flat. This will take hours, and make lots of shavings but is far more satisfying than doing it with an electric sander or planer. Use a straightedge to regularly check for high spots and to make sure you aren't making any "valleys" or low spots. 
I found it easiest to make overlapping diagonal passes with the plane at roughly 45 degrees to the long end of the worktop, moving left to right. Once one sweep is done, repeat on the opposing 45-degree angle moving from right to left down the length of the worktop. Rinse and repeat. Once it is is close to flat you can make long sweeps straight down the length of the top in alignment with the orientation of the laminated boards.
6. Final assembly 
Dry fit to make sure it all goes together as planned. Use carriage bolts to screw up through the frame (try to avoid screwing into your glue lines of the worktop) to hold the worktop in place. Wood nerds will tell you not to do this due to wood movement. I've found that my lamination barely moves and I've had no issues in 2.5 years
7. The end 
Using dowels to attach contrasting strips of red cedar to cover the end grain of the lamination and applied boiled linseed oil all over, and drilled 19mm (3/4") holes for bench dogs. Crack a cold one and think about how many more great projects will come off your new workbench.
Make your project easier with metal outdoor table legs/bases from Flowyline, why not?
Metal outdoor table legs and bases from Flowyline Design are highly crafted by handmade metal furniture makers, so they are prolonged to use, unique look, contemporary elegance, are budget-saving, easy-setting, and are easy to care for.
Go especially well with any of your table or benchtops, be it the live edge, wood, or epoxy, be it your custom table ,dining table, console table, or oval butcher block table.
These metal table legs and bases are always packed nicely, ready to be delivered to spruce up your living space, and come equipped with adjustable levelers hidden well in the feet. All you need to do is to bolt the base on your table or benchtop and go.